To toast the 15th anniversary of the Granholm v. Heald ruling issued May 16, 2005, we unearthed a true throwback Thursday image.
This photo was taken December 7, 2004 on the steps of the U.S. Supreme Court immediately following oral arguments that led to the ruling.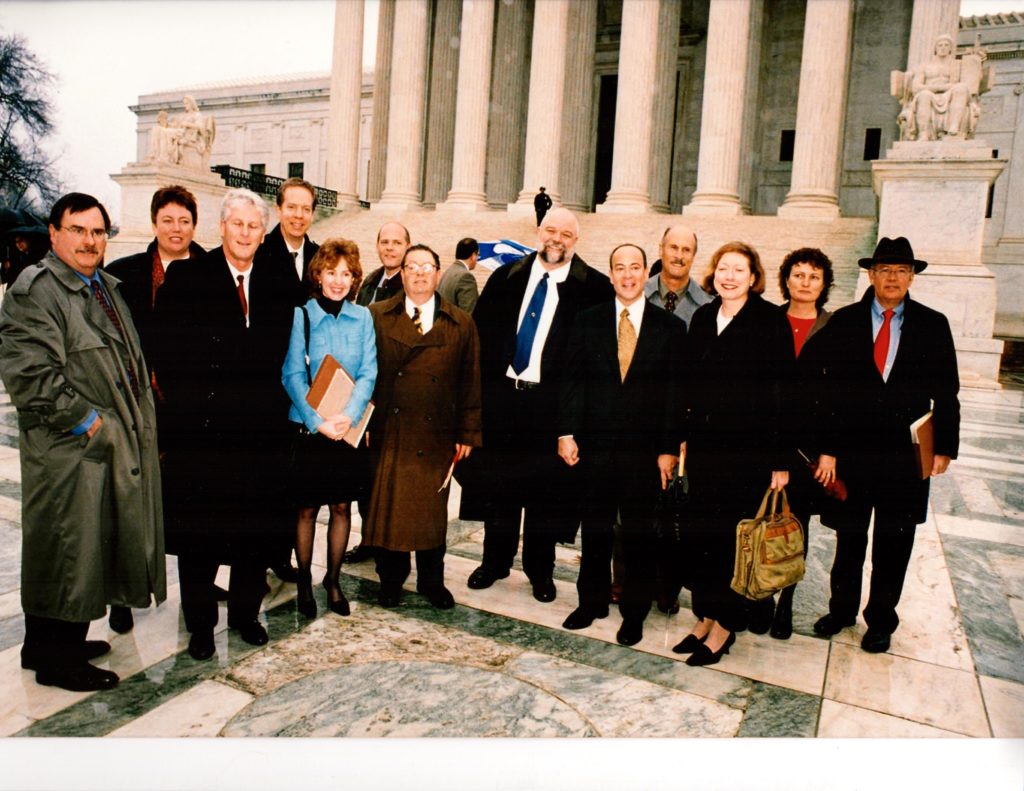 Before and After
To put this milestone moment in perspective:
27 vs. 46: In 2004, only 27 states allowed winery DTC. Today: 45 do with Kentucky to be online later this summer.
51% vs. 95%: In 2004, wineries had the option of direct shipping to 51% of consumers. Today: legal states comprise 95%+ of the US population.
4k vs. 10k: The number of wineries in the U.S. has more than doubled.
The USSC decision in Granholm v. Heald was a watershed moment, but certainly not the only milestone in the industry's pursuit of legal, regulated DTC shipping. What followed after 2004 was a persistent, patient campaign of lobbying by Wine Institute, primarily, with Family Winemakers of California and WineAmerica; litigation by Coalition for Free Trade (which "retired" in 2014 after achieving its goals); and an ongoing consumer marketing and PR campaign led by Free the Grapes!
For the Free the Grapes! campaign, none of this would have been possible without the annual contributions from organization founders Wine Institute and Napa Valley Vintners, independent wineries (you know who you are – thank you), as well as Family Winemakers of California, WineAmerica, and Coalition for Free Trade. More recently, the DTC Wine Symposium has established itself as the primary funding source for Free the Grapes! Operations to engage consumers and the media in supporting opening states and streamlining overly burdensome regulations. The fight goes on!
While no one in this 2004 photo would know the outcome of the ruling until May 16, 2005, these are some elated (and tired!) faces, left to right:
Dennis Cakebread, Free the Grapes! Board member
Lesley Berglund, Free the Grapes! Board member
Paul Kronenberg, Family Winemakers of California
Jeremy Benson, Free the Grapes!
Tracy Genesen, Coalition for Free Trade
David Sloan, WineAmerica
Bob Epstein, attorney
Steve Gross, Wine Institute
Clint Bolick, attorney
Alex Tanford, attorney
Kathleen Sullivan, attorney
(We're not sure!)
Kenneth W. Starr, attorney